One simply cannot overstate it (and if one could, one would be perfectly right in doing so): boutique, single-vineyard Champagnes render all other bubblies insufferably dull by comparison. Their quality is simply unsurpassed.
Each tells a rich, layered story—complete with a unique setting and an unforgettable cast of characters. Every sip adds a new dimension, reveals a twist, nudges you deeper into the plot.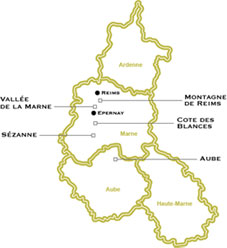 So dig in deep. And choose your own adventure.
The Five Major Districts in Champagne:
Montagne de Reims
Primary Grape: Pinot Noir
Best villages: Ambonnay, Ay-Champagne, Bouzy, Vezenay, Verzy
Côte des Blancs
Primary Grape: Chardonnay
Best villages: Cramant, Avize, le Mensil-sur-Oger
Vallée de la Marne
Primary Grape: Pinot Meunier
Best villages: Mareuil-sur-Ay, (for Pinot Noir),
Dizy & Hautvillers (for both Pinot Noir and Pinot Meunier)
and Ste-Gemme (for Pinot Meunier)
The Aube (also known as Cotes des Bars)
Primary Grape: Pinot Noir
Best villages: Les Riceys
Côte de Sezanne
Primary Grape: Chardonnay
Best villages: Villeauxe-la-Grande