September 7, 2014 | Being the Perfect Host! | Henri of Henri's Reserve
Which Fork? How to Arrange a Formal Dinner Place Setting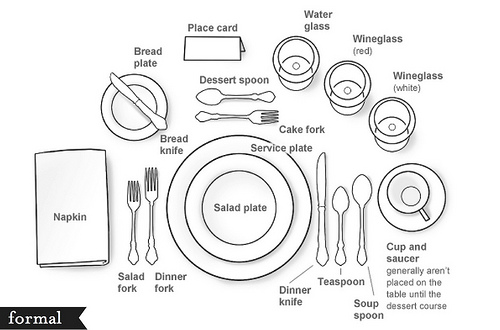 Ah, mes amis, you have taken the plunge! A formal dinner party is a delightful experience, full of style and elegance. Many have never attempted a formal dinner; they worry they could never pull it off. Entre nous, it's simpler than you think!
Once you have chosen your menu and invited your guests, it is time to set the table…
As you lay your pieces, it is important to mind the space. Position your tableware geometrically, so the distances between pieces are equal and pleasing to the eye.
1. Drape a freshly laundered and ironed table cloth over your table. I prefer a classic white.
2. Arrange your centerpieces, one for each round or square table and centerpieces evenly spaced along rectangular tables. The centerpieces shouldn't be taller than your guests.
3. Place the dinner plate upon a charger in front of each chair, about two inches from the table. Place your soup bowl and napkin across center plate. I enjoy the elegance of a simple napkin fold. It adds personality to your table.
4. Lay your flatware next to each plate.
On the right, lay your three knives: first course, main course, and salad, blades inward. Then, lay your teaspoon and soup spoon.
On the left, your forks from the inside: first course, main course, and salad.
Lay my favorite spoon - the dessert spoon – at the top of the plate with the dessert fork.
5. To the left of your dinner plate, above the forks, lay the bread plate. Some forgo this piece, but I feel a buttery delight is an important part of the meal. Lay the butter knife across the plate.
7. To the right of your plate, above the spoons, set your glassware: water glass and wine glasses, arranged as a triangle and in the order that complements the meal, from nearest the hand to furthest. If the meal calls for a sherry glass (perhaps with an appetizer or soup), place it to the right of the wine glasses, close to the hand. And of course, the pièce de résistance… the Champagne flute, placed near the water goblet if Champagne is served throughout the meal, or in the order the courses require.
Now, your table is set, your guests have arrived... Bon appétit!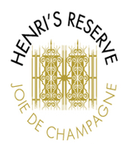 Written by Henri of Henri's Reserve

Henri's Reserve is an e-boutique devoted to champagne lovers. We are a gateway to the seductive world of Family Estate bubblies; a place to sit back and indulge in the joie de champagne. Henri's Reserve offers exceptional grower champagnes with true depth and subtlety—original tastes you won't find anywhere else. Our collection consists of handcrafted, estate-bottled champagnes produced by houses that ship often less than 5,000 cases a year and produce vastly fewer of their cuvée spéciales.
Quality and exclusivity is what you experience with Henri's Reserve. Be the "I want to go to their house" host. Don't serve the same-old-same-old. Help your friends discover the world of Family Estate Champagnes and be the joy delivering gift-giver. Henri's Reserve opens the world of Champagnes to you with a Champagne Club - receive magnificent bottles of champagne every month with "Henri's Club."
Learn more at www.henrisreserve.com.
Interested in writing a guest blog for Henri's Reserve? Send your topic idea to pr@henrisreserve.com.
All data and information provided on this site is for informational purposes only. Henri's Reserve makes no representations as to accuracy, completeness, current-ness, suitability, or validity of any information on this site and will not be liable for any errors, omissions, or delays in this information or any losses, injuries, or damages arising from its display or use. All information is provided on an as-is basis.
Photo Credit: Carmen Rodriguez NSP via Compfight cc