September 6, 2012 | Henri of Henri's Reserve
Pan-Bagnet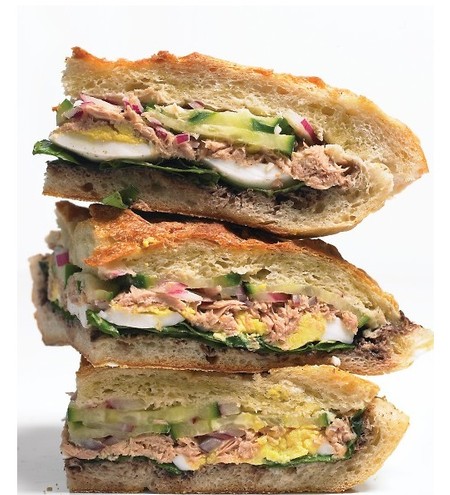 Literally translated "bathed bread", Pan-Bagnet is a salad Nicoise sandwich...very popular in Provence -- my guests love this recipe.
Ingredients:

1 wide baguette or round white French country bread
extra virgin oil
freshly ground black pepper
1 very small garlic clove minced
2 anchovy fillets minced
1/2 red onion finely sliced into rings
pitted olives Nicoise
capers
1 english cucumber sliced thinly
crisp lettuce
2 hard-boiled eggs sliced
1 jar premium tuna packed in olive oil, drained

Instructions:

1. Cut the bread in size portions and then cut them in half lengthways and scoop out some of the bread filling.

2. Drizzle the bread with olive oil, spread out the minced garlic and anchovy and season with pepper.

3. Fill the hollowed out half with lettuce leaves, red onion slices, cucumbers, olives, capers and tuna.

4. Put the other half of bread on top and wrap snugly in foil.

5. Put a heavy object on top of the sandwiches such as a book or books to flatten it. Leave for an hour or two before serving.